GLM is proud to introduce our Marine Manifolds & Elbows!
GLM Manifolds are Superior in the Aftermarket Marine Parts Industry.

Designed to Increase Performance, Reduce Back Pressure
and Add More Horsepower to Your Engine!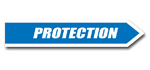 Cast Iron Manifolds are Black Painted
for Corrosion Resistance!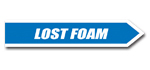 The Only Manifold in the Aftermarket Manufactured
using the "Lost Foam" Casting Process!



-More Rigid, Less Chance of Failure.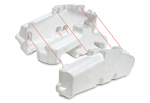 -Excellent Dimensional Tolerances.
-No Structural Limitations for Casting.
-More Durable and Reliable than other types of Casting Technology.
-Greater Control over the Accuracy of the Wall Thickness
Preventing Thin Spots that can Corrode Through Prematurely.
HI-RISE ELBOWS for OMC & VOLVO PENTA V6 / V8 S.B. / V8 B.B. & V8 FORD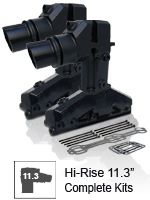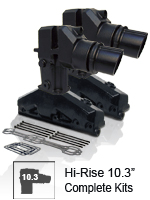 GLM No. 51336, 51337 & 51338 are direct
replacements for the OMC and Volvo Penta
Hi-rise elbows. GLM No. 51336 replaces
OEM No. 3889964 for Volvo Penta V6 2007
& up (complete kit No. 58486). GLM No.
51338 replaces OEM No. 3889965 for
Volvo Penta V8 S.B. 2007 & up (complete
kit No. 58438). GLM No. 51337 replaces
OEM No. 3862627 for OMC & Volvo Penta
V6, V8 S.B., V8 B.B and V8 Ford 1991 & up
(complete kits No. 58487, 58437, 58507 &
58492). GLM also offers the standard riser
No. 51330 to replace OEM No. 3857944.
DRY JOINT ALTERNATIVE ELBOW / RISER for V6 & V8 S.B.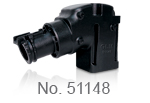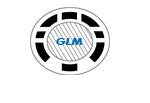 GLM No. 51148 has two extra water ports
on each side and a larger bottom port.
This allows for maximum water flow
through the riser, significantly reducing
the chance of blockage. Purchasing our
manifold/elbow set replaces both pieces,
eliminating your dry joint system!
ELBOWS / RISERS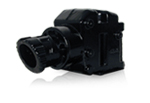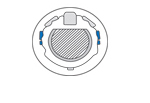 In the MerCruiser 4" Riser, there are two
extra exits at each side. This allows water
to exit more efficiently, keeping engine cooler.
SMALL BLOCK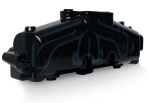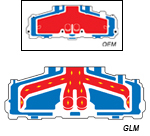 Our fully tuned design guides exhaust gases directly to riser without turbulence and back pressure. This increases the engines performace up to 10%. In the meantime, an additional 40% water cooling area will decrease the entire manifold body temperature significantly.
BIG BLOCK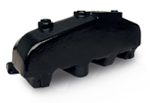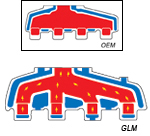 Our fully tuned design will reduce turbulence and enhance flow for added performance. An extra 30% water cooling area will help reduce temperature in the exhaust exit area allowing for longer gasket life.
GLM Manifolds and Elbow/Risers are Available in Cast Iron.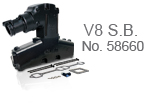 GLM now offers a V6 (No. 58650) and a
V8 S.B. (No. 58660) Manifold/Elbow Set
to replace your Dry Joint Exhaust System: - One Manifold
- One Elbow/Riser
- All Gaskets and Hardware!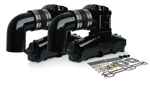 GLM also offers 100% Complete Sets
& 100% Complete Conversion Kits:
- Two Manifolds
- Two Elbow/Risers
- All Gaskets and Hardware!
Click the Image Below to Download GLM's Manifold Catalog!